Tips for Including Your Dog in Your Engagement Photos.
Include your fur-babies in your engagement session!
Many couples look to include their fur babies in the wedding festivities. There's nothing more adorable than having your pooch pop up in your engagement photos. Here are a few tips on including your beloved furry companion in your engagement session.
1. Notify your photographer.
It's important to let us know prior to your engagement session that you would like to bring your pet. This will allow us to prep for the shoot as well as scouting photography locations that are pet friendly and of course get us thinking of creative ways to incorporate your furry BFF into your engagement session. We are dog lovers and would love to see your pet take part in your engagement photography session.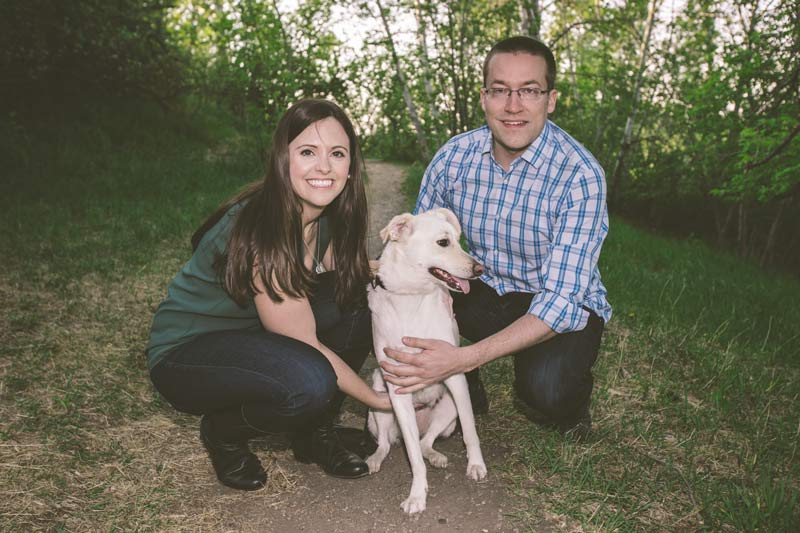 2. Let us know if you are bringing your pet so we can make sure the location allows pets.
While most public parks will allow pets, you might have trouble including your pup at a shoot if the the location is indoors.
Always call ahead of time to confirm that your four-legged ones are welcome.
3. Make sure the location will be comfortable.
While a summer shoot in Calgary may seem like the perfect weather to showcase your little white dress, hot pavement streets might prove uncomfortable for you pet's naked paws after some time. Similarly, a winter wonderland shoot in the snow could prove less than scenic for dogs unaccustomed to the cold, and even painful for those sensitive to the salt sprinkled on icy streets.
4. Bring treats.
Did somebody say treats?
This is really important, specifically when you'll need your pet to sit still or lay down to pose for a photo. Give them treats to incentivize good behavior or when they're looking like they need a pick-me-up. You think you're the only one who's exhausted by all this picture taking?
5. Enlist help.
We highly recommend bringing a friend or a family member that can look after your pet or take them home after a few shots. This way your pet will not get restless and you wont be worried.